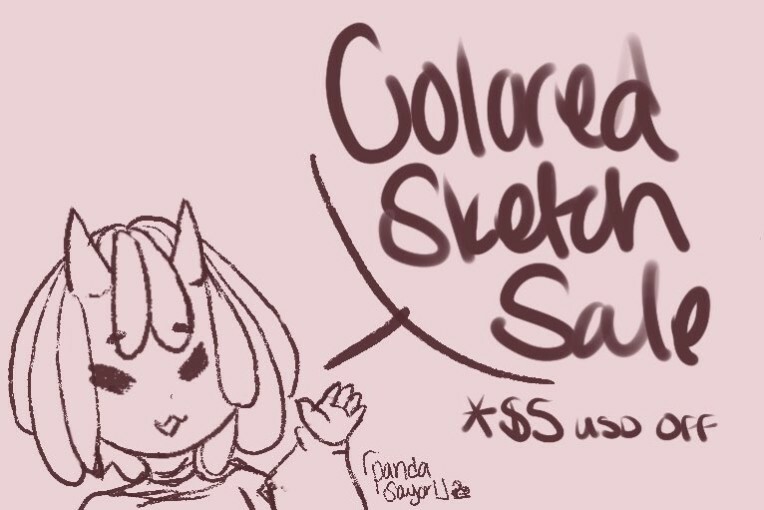 Hello everyone!
Since I've posted this on Twitter I've decided to try making an official post here to let people know that my colored sketch commissions are currently on sale for $5 off. This only applies to the base price / associated fees of the commission and prices are subject to change based on character design complexity. NSFW fee is also added for any 18+ colored sketch work. Sketches are on sale to help me reach my $200 goal to help make a payment on a student loan. All prices listed are in USD.
Colored Sketch Sale Prices:
Headshots: $15
Half Bodies: $25
Full Bodies: $35
NSFW Fee: $15
backgrounds will not be drawn for colored sketches
Important Links:
If you'd rather donate instead of commissioning you're more than welcome to do so on my KoFi page. I'll be sure to draw a little thank you doodle using one of my OCs in exchange. All doodles with be SFW in order to comply with KoFi's NSFW policy.
Contact Information for Inquiries:
Telegram: @ mochiipan
email (minus the spaces): pandasayori @ gmail . com
Twitter DMs: @ pandasayori
site messages and comments are also an option, but I'm not always on Newgrounds to check them
Payment Information:
Payment is only accepted via PayPal invoices. When contacting, please include the email address that you would like me to use when sending your invoice. It's greatly appreciated!
If you have any questions, comments, or concerns, feel free to get in touch with me! I'm happy to listen and answer!
Thank you so much for stopping by!